We Fulfill All Your Roofing Needs
Many localities in New York were built decades ago. As roofs age and suffer normal wear and tear, they need the care of a professional, expert roofer to stay functional and look great. We are the New York experts in installing new roofs, maintenance, sealing and roof repairs. From flat rubber roofing to aluminum roof coating, we can reliably serve all your needs.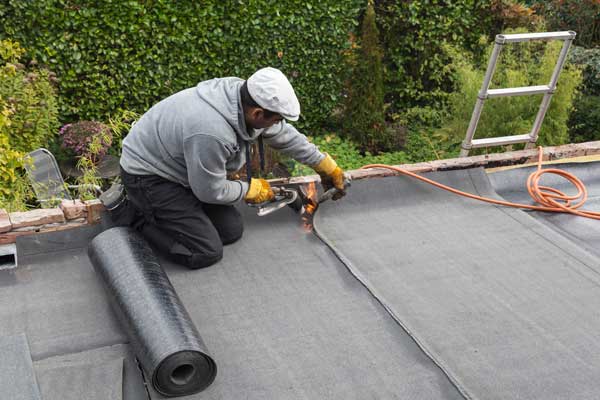 Is your aging roof failing to protect you from New York's frequent downpours? Do you want roof repairs done by local experts to ensure your roof gives you complete protection? At Thomas James Roofing and Waterproofing, we are here to deliver the ideal roof for our local climate.
Our Roofing Services
Roof Installation
Roofs are built to last, but they are not indestructible and will eventually succumb. If you are looking for a high-performance, new roof to protect your home or business, rely on us to install it. We provide top-tier roof installation services using materials from GAF, Firestone, Karnak and other leading brands. If you think your roof is nearing the end of its lifespan, call our professionals at Thomas James Roofing and Waterproofing for a free consultation.
Roof Repairs
Are excessive shingle granules clogging your gutters? Do you see signs of moisture on your roof? Call our roofers for a professional inspection to tackle any problems before they worsen and cost you more. We will carefully assess your situation, identify the cause and undertake durable, effective repairs. When you want a protective coating to add an extra layer of security to your roof, we can deliver it.
Storm and Wind Damage Restoration
From strong blizzards to hurricanes, New York is no stranger to inclement weather. These freak natural occurrences can blow away shingles or even cause catastrophic damage to older roofs. Working in the demanding local climate has honed our storm repairs and restoration services to ensure we quickly get you back on your feet.
New Construction
Whether you are planning a multifamily building or commercial construction, our fully trained team provides impeccable roofing solutions. We have the experience and the expertise to deliver your project exactly as needed.
Depend on Us for Top-Notch Roof Repairs
If your roof is over 20 years old, it may be time to get it inspected by your local roofers at Thomas James Roofing and Waterproofing. We can restore your roof's functionality and pristine look with first-rate repairs, sealing and coating services. To get the best roof in New York, call (718) 416-5255 or fill out our convenient online form.